KidTalk Celebration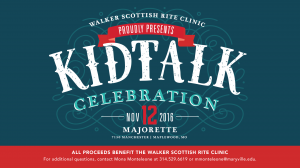 Saturday, November 12, 2016; 6:00 p.m.
Majorette, 7150 Manchester Rd, 63143
KidTalk Celebration is the Clinic's biggest fundraiser.  This year prepare to be amazed and join us for a show not to be missed. KidTalk Celebration 2016 will be at the stunning Majorette. Guests will experience an extraordinary meal and be enthralled by unique and amazing entertainment from Circus Kaput.  Dress code: Festive/Cocktail; Be creative and showcase your personality. All guests receive complimentary valet service.
Emcee: Pat McGonigle, anchor, KSDK NewsChannel 5
Honorary Chair: Debbie Monterrey of Total Information AM, Newsradio 1120 KMOX
If you are interested in becoming involved with KidTalk Celebration as a committee member, volunteer, donor or sponsor, please contact Mona Monteleone, development director, at 314-529-6619.
Many thanks to our sponsors for their support of KidTalk Celebration: